Choi Eun Joo Wins Bodybuilding Competition in Thailand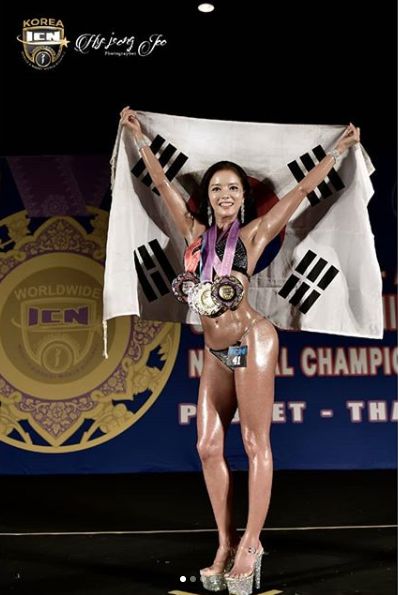 Choi Eun Joo Instagram
South Korean actress Choi Eun-joo, 39 has won four gold medals at 2018 ICN Southern Universe Championships.
On June 24, Choi has posted a photo of herself with the national flag on the stage, on SNS. It reads "Bikini Angel 1st, Runway 1st, Sports Model 2nd, Bikini Pro 3rd 2018 ICN SOUTHERN UNIVERSE CHAMPIONSHIPS "
Choi has participated in the competition and revealed that she has received medals in several categories.
Yang Chi Seung, a trainer who helped her to become the champion also said "Congratulation for four medals".
Choi made her screen debut with the movie 'My Wife is a Gangster' in 2001. Her last movie was 'Never Ending Story' in 2012 and almost stopped acting. Recently she has transformed into a bodybuilder, received attention by reporting the awards.
Choi Eun-joo was ranked first in the bikini category at the 2018 Max Q Muscle Mania Competition held on April 28, followed by the ICN Asian Natural Championship (ICN ASIAN NATURAL CHAMPIONSHIP) held on May 7.
Written by Kim Hyun Rok
Translated by Lee So Yun
- Any copying, republication or redistribution of STARNEWS's content is expressly prohibited without prior consent of STARNEWS. Copyright infringement is subject to criminal and civil penalties.